Swiss Cyber Storm 2023 – The Human Factor
events news

Swiss Cyber Storm is an international IT security conference in the field of cyber attacks and defense. International experts talk about the latest findings, techniques, and trends. In addition to the presentations, the conference offers plenty of space for networking and exchange. The conference is dedicated to the topic "Human Factor". Humans are the weakest component for the security of any ICT infrastructure and pose the greatest risks and threats to a company or organization.How can the mistake of a human being in the company lead to a successful data or security breach and how can you protect against it?
As one of the leading consulting companies in the field of cyber and application security, we are pleased to be part of the Swiss Cyber Storm again. We will be available on site to answer visitors' questions and provide insights and recommendations on their IT & cybersecurity issues.
SEC Consult at Swiss Cyber Storm
We will give you expert advice on site on your questions, among others on:
- Infrastructure Assessment
- Security for SAP® Services
- Reacting in case of a cyber attack (SEC Defence)
- security audits
and more.
Exchange of experience with our colleagues during a personal meeting
Expert knowledge based on many years of cooperation with government agencies, international organizations, and leading companies from various industries in the private sector, as well as critical infrastructures.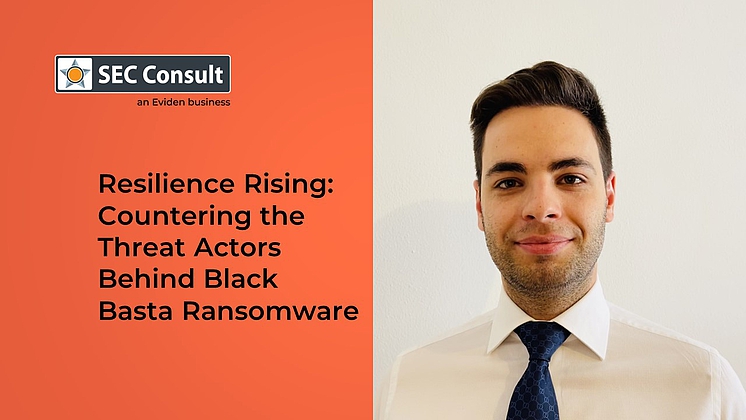 Lecture
The presentations of many national and international speakers offer the opportunity for the deepened professional exchange on concrete questions and specific challenges. Don't miss the presentation by SEC Consult:
Resilience Rising: Countering the Threat Actors Behind Black Basta Ransomware
Speaker: Angelo Violetti, Incident Response and Digital Forensics Consultant
Time: 15:05 - 15:35
What is it about?
In recent years, ransomware has been, and still is, one of the main cyber threats for organizations of all sizes across the world by causing availability disruption and producing elevated financial costs. Ransomware groups are structured as modern organizations with departments, specific roles assigned to every operator, and a clear chain of command. The attacks are performed actively by humans and are indeed named human-operated ransomware attacks.
In cyber security, we often talk about humans as the weakest link for organizations because, without doing enough awareness activities, all the money spent on technologies and processes has a low impact on the overall security posture. However, we rarely discuss the human factor behind threat actors and how we can leverage it to better protect ICT infrastructures.
The talk will discuss one of the major ransomware gangs, Black Basta, and how the techniques adopted by the threat actors behind the group can be detected and prevented by also exploiting the weakest link of every organization, including criminal ones...the human factor.
We look forward to meeting you in person at Swiss Cyber Storm 2023!