SEC Trainings
Creating security awareness and improving the security skills of end users represents one of the foundations of information security. SEC Consult delivers trainings for different target groups based on best practices, state of the art security knowledge and real-life stories and experiences.
Training for Better Security
You are not sure whether all your employees are prepared to handle the increasing threats from cyberspace? You need experts who can inform your staff about the current dangers and give them the tools they need to keep your company's IT landscape secure for the future? High quality trainings from SEC Consult are the solution.
Target-Group-Specific Trainings
SEC Consult delivers high quality trainings for specific target groups to create an extremely valuable knowledge transfer. Our experts offer technical trainings for developers and admins as well as general security awareness trainings for employees and managers on all levels.
Individual Trainings
No company is like another. SEC Consult's professionals are active security specialists with relevant, practical experience. They are acquainted with security requirements for all industries and areas and will prepare individual, tailor-made employee trainings for your company
Training by Real Security Professionals
Our experienced experts have answers for even the most specific security questions. By using live demonstrations of attacks and vulnerabilities, SEC Consult gives you a comprehensive overview about the dangers "out there" and supports you to create sustainable security knowledge and awareness within your organization.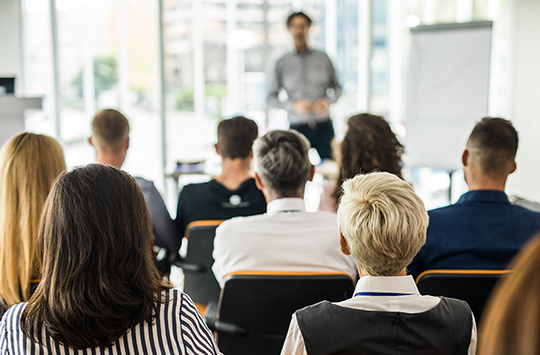 Benefits of SEC Trainings
Up to date security knowledge
Increased and lasting security awareness
Customized contents
Lasting Knowledge and Awareness
Our philosophy is to raise the awareness of your employees at all levels and in all divisions about their personal responsibility for the IT security of their company. By using demos and practical examples we intend to create a lasting knowledge how to strengthen the IT system and how to prevent vulnerabilities.
SEC Consult trainings are customized to your needs – from minor changes to fit your company's policies or corporate identity up to highly individual trainings to transport exactly the cyber security knowledge you want to convey. Our security experts know all about ISMS topics and pentesting and will be happy to answer each and every question in depth.
Different target groups have different needs. Therefore, we provide tailor-made trainings for
employees
(top) management and decision makers
developers
Windows admins
CISOS and persons responsible for application security management
Talk to one of our experts
If you have any further questions get in touch with one of our specialists.