Visit SEC Consult at it-sa 2023
events news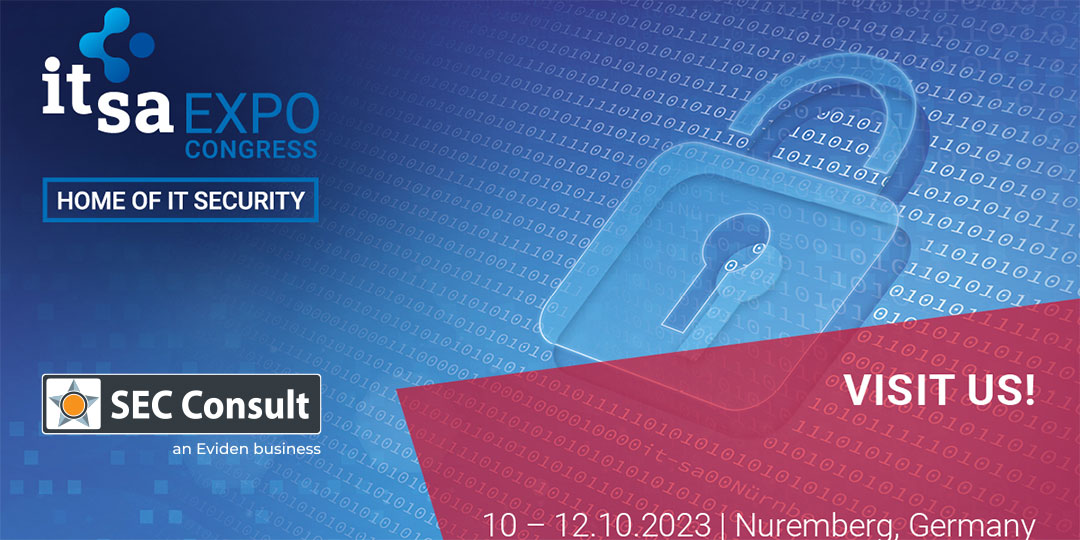 The cybercrime threat is real. As one of the leading consulting companies in the field of cyber and application security, it-sa is an annual fixture for SEC Consult. As usual, we will be available at the booth to answer your questions and provide insights and recommendations on IT & cybersecurity.
Find us at it-sa Expo&Congress from 10 to 12 October 2023 at the Exhibition Centre Nuremberg. Together we will find the best solution for your business.
Get a free day ticket for it-sa 2023
Use the voucher code 503313itsa23
This is what you can expect at the SEC Consult booth:
We will provide you with expert on-site advice on your questions regarding IT security, application security, hardware security, mainframe security, web application security, threat analyses, APT protection, intrusion detection / prevention, mobile security, penetration tests and awareness.
Exchange of experience with our colleagues in a personal meeting
Expert knowledge based on many years of cooperation with government agencies, international organizations and leading companies from various industries in the private sector, as well as critical infrastructure.
Workshop: Ransomware Wargame
This year for the first time and with a limited number of participants: Take part in our Ransomware Wargame - a simulated simulation game with our experts from SEC Defence as preparation for an emergency. In a specially created scenario, you will experience all phases of a full-blown cyber crisis first-hand. Interactive participation, exciting discussions, and a well-developed attention to detail are guaranteed.
Wednesday, October 11th, 2023, 2:30 pm – 5:30 pm
NCC Ost, 2nd level, Kiev room (directly reachable via Hall 7A)
Presenters: Chris Golitschek, Michael Ritter, Michael Denzel
No registration required. Please note that the number of participants is limited. First come, first served.
We look forward to meeting you at it-sa 2023!